Fall Impressions
Misty mornings full of promises to come
give way to blue skies with the afternoon sun
School yards fill with laughing children
eager to learn new things
with each clanging of the school bell ring
Summer is fading away
as Fall makes her entrance
Crisp morning air giving way to sunny afternoons
that bow to the cooler evenings
with each rising of the harvest moon
Reds, golds, browns and wines
the riotous colors of the leaves on the ground and trees
It's a beautiful yet bittersweet time
as the earth begins to prepare for sleep
The tart yet sweet taste of hot apple cider on the tongue
the smell of woodsmoke fills the cool night air
Just a few of the many ways we know Fall is here
Pumpkins line the porches
while canned goods line the shelves
Bring in the last harvest
Before winter decides to dwell
There's a taste in the air that only Fall brings
Hot apple pie and home-made bread
Turkey and stuffing with cranberry sauce
Hot chocolate by the fire before you go to bed
These are my impressions of my favorite time of year
""While the earth remains,
Seedtime and harvest,
And cold and heat,
And summer and winter,
And day and night
Shall not cease.""
Genesis 8:22 (NASB)
Written 9/28/2010
My Shepherd King
But my Shepherd knows all things
So to Him I will boldly go
Knowing He can see my heart
He reaches out to hold me
Giving me shelter in His arms
His voice gently telling me
How He gave His life for me
So I am cleansed from all sin
I give my burdens to my Shepherd
Who once was the Perfect Lamb
He cleanses my heart with His blood
And imprints me in the palm of His hand
He gives me a heart of joy
As He assures me I am always His
Telling me nothing can separate us
As long as I confess my sins
He will always forgive me
And wash me clean with His blood
He will feed me with His Word
As He prepares my home above
My Shepherd will one day return
He will ride a white horse
He is the King, He is I Am
I await His return with gladness
The eastern skies is where He will be
He will come back in clouds of glory
""In My Father's house are many mansions; if it were not so, I would have told you. I go to prepare a place for you. And if I go and prepare a place for you, I will come again and receive you to Myself; that where I am, there you may be also."" John 14:2-3 NKJV
Written 5/21/2010

Book Lover
It's the smell, I think, that I love the best
A brand new book, hot off the press
Each page hold new secrets that must be explored
The smell of fresh ink, I absolutely adore
My favorite book, I just can not say
History, fiction, Shakespearean plays
Poetry, suspense, all put me in a mood
For a good cup of coffee with finger food.
When reading suspense, I reach for the covers
A good romance, over a box of tissue my hand hovers
Mysteries have me thinking "Aha!"
Poetry at times will make a tear fall
Whether the book is new or gently used
Makes me no matter, Bookworm I am accused
Everywhere I go you will see one in my hand
One in my purse, in the car, or pocket of pants
I am a book lover, with a voracious appetite
I don't just nibble, I take big bites
The thicker the book, the happier I am
But I'll read the little ones if I'm in a jam
Books that inspire, books with humor
Books with love and not too much fever
Books that inform, books on the past
Hardbound, paperback, just as long as they'll last
E-books are fine, I'm sure for those few
But for me, nope, no way, they just won't do
I have to hold it, caress it, smell the ink
Feel the paper, not click on a link
Call me old-fashioned, or fanatic will do
But books are meant to be held, just like me and you
They need to be loved, held close to the breast
They're meant to be treasured, passed to the next
Rereading a book is like having a conversation with your best friend
Some of my books I have read over and over in multiples of ten
You would know which one is my favorite, it's true
When you open it up and pages fall out on you
I am a book lover, this is what I live to do
I read books old, contemporary or even something by you
If I don't like it, you'll never hear me say
I will pass it on someone, a good home, for it to stay
If it's a book I like, you can rest assured
I will write about it, talk about it, my voice will be heard
I'll make mention of it on my blog
You can read about it, when on it you log
I am a book lover, this much is true
But one day I hope to have written a book just for you.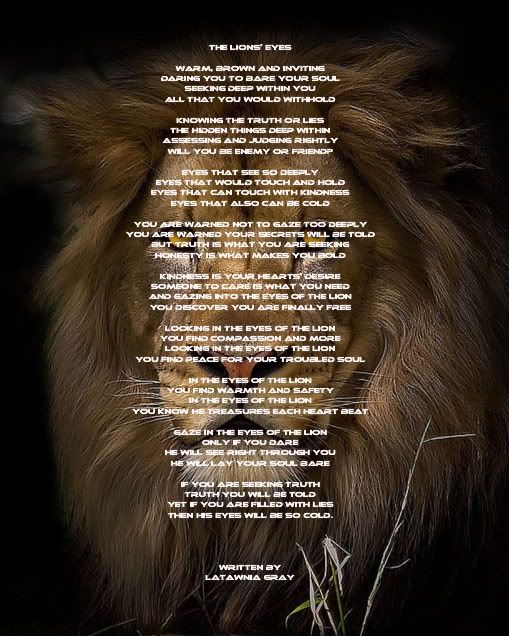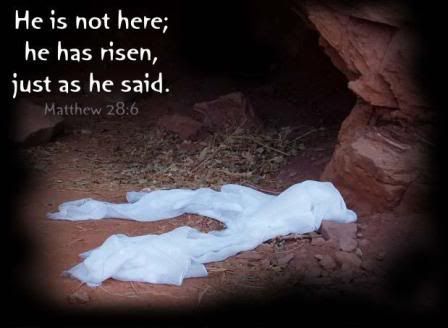 John's Race
I see His folded garments
My head was slow to receive
Written 3/31/2010

Morning Sunrise
Every morning I see it
Yet it is always something new
Each one is familiar
Yet each one is new
It comes up from behind the hills
Sometimes shy, sometimes bold
Softly lighting the sky
with reds, yellows and gold
As it awakens the morning creatures
Something inside of me awakens as well
Hearing the birds singing
It is as if I had been in a spell
As it reaches the top of the trees
with is soft rays of light
I find I had been holding my breath
As it chased away the tendrils of night
Now that it's fully risen
I wonder if I will ever see again
Another as beautiful as this one
I can hardly wait for tomorrow to begin
Written February 18, 2010

Morning Fog
Grey tendrils wrap around the trees
The birds are silent in their nests
All that is different that I can see
is the smoke coming from the chimney
As I stand outside to look around
The morning fog envelops me
It covers everything to the ground
The trees, the house, even the kitties
But as the sun rises this morn
The fog begins to lift its grey form
I am able to see the valley floor
As I stand outside on my porch
I look around and can finally see
Neighboring fires around me
Seeing their smoke rising says to me
I am not alone on this foggy morn
Written Feb 24, 2010